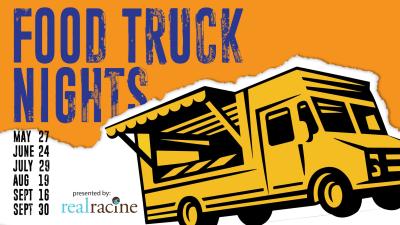 Real Racine is excited to announce its partnership with Franksville Craft Beer Garden's Food Truck Nights all season long! This monthly family-friendly event is FREE to attend at everyone's favorite community gathering place in Franksville Memorial Park (formerly Caledonia-Mt. Pleasant Memorial Park), 9614 Northwestern Ave., Franksville.
Each night will feature five to eight local food trucks serving up a variety of snacks and dishes for every palate, more than 22 craft beers on tap, live music, yard games, and more. Stay tuned to the Franksville Craft Beer Garden Facebook page for truck/vendor lineup including many past favorites.
For summer 2022, FCBG has partnered with the Racine County Food Bank to collect donations during each Food Truck Night. Visitors are encouraged to enjoy the fantastic food options being served up by food trucks and also to contribute a non-perishable food item to the Food Bank.
2022 Food Truck Nights at the Beer Garden:
Friday, May 27 (5-9 p.m.)
Friday, June 24 (5-9 p.m.)
Friday, July 29 (5-9 p.m.)
Friday, August 19 (5-9 p.m.)
Friday, September 17 (5-9 p.m.)
Friday, September 30 (5-9 p.m.)

Join us for these other great food truck events:
3rd Annual Taco Fest of Racine - July 23, 2022
5th Annual Franksville Food Truck Festival - September 9-10, 2022
5th Annual Oktoberfest of Greater Racine, presented by Lakefront Brewery - September 22-25, 2022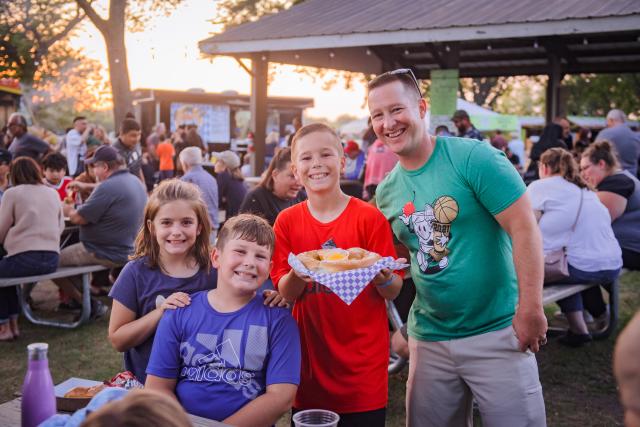 About the Franksville Craft Beer Garden
The Franksville Craft Beer Garden is an exciting community gathering spot in Franksville Memorial Park. As Racine County's first permanent Craft Beer Garden, the beer garden adds to the historic legacy of the park, which has been a community gathering place since some of the area's first settlers in 1832. The FCBG serves a rotation of 16 Wisconsin craft beers on tap along with cider and wine, in a relaxed, family-friendly atmosphere. The beer garden has its own playground and sandbox, and plenty of green space. You'll find yard games, board games, music, and lively conversation every day. Visit their website for more information.
In 2021, FCBG received The Journal Times Best of Racine County awards for Best Event, Best Customer Service, Best Beer List, Best Free Entertainment, Best Happy Hour, and Best Family Fun.
Opening weekend is May 20-22, 2022. FCBG is open weekends May to October:
Thursday 5-9 p.m.
Friday 1-9 p.m. with Live Music 6-9 p.m.
Saturday 11 a.m. - 9 p.m. with Live Music 6-9 p.m.
Sunday 11 a.m. - 7 p.m.
The FCBG and Food Truck Nights are always free to attend, but no carry-in alcohol is permitted.