It's Mardi Gras Time! Ready to get your hands on some Fat Tuesday Favorites? Here's where to go to let the good times roll in Racine County:
---
King Cake Kringle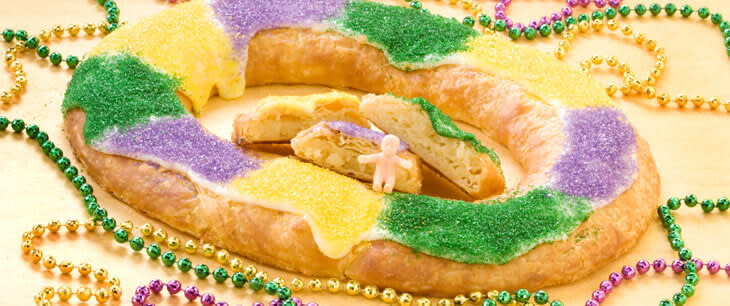 The Kringle King Cake is decorated in official Mardi Gras colors - green stands for faith, gold represents power, and purple represents justice. These are blessings of the New Year for qualities that will bring you prosperity and happiness. The Kringle King Cake is made using our famous pastry and moist cream cheese filling. Enjoy a little bit of New Orleans straight from Wisconsin at these locations:
O&H Danish Bakery
5910 Washington Ave., Mount Pleasant
1841 Douglas Ave., Racine
4006 Durand Ave., Racine
Racine Danish Kringles
2529 Golf Ave., Racine
Paczkis



​Paczkis (pronounced POONCH-keys) are filled donuts made with a perfect combination of fruits, and other sweet fillings to enjoy right before the lenten season, these treats are only available once a year on Fat Tuesday in Racine County, which makes this dunking delight extra special. 
Here are the Racine County exclusive locations to find your pack of paczkis:
O&H Danish Bakery
5910 Washington Ave., Mount Pleasant
1841 Douglas Ave., Racine
4006 Durand Ave., Racine
Lehmann's Bakery
9117 Durand Ave., Sturtevant
Larsen's Bakery
3111 Washington Ave., West Racine
Bendsten's Bakery
3200 Washington Ave., West Racine
Main Street Bakery
328 Main Street, Downtown Racine