Looking for a local coffee shop to get your morning buzz or a collaborative coworking space that offers a great atmosphere for studying, planning meetings, or just catching up? Racine County offers a wide variety of remote workspaces to keep your productivity on the move.
Coffee Shops



The Branch at 1501
1501 Washington Ave, Uptown Racine
The Branch at 1501 is not only a local favorite place to enjoy a coffee and plug away at work, but it's also a beautifully restored historic bank that transforms into a stunning event venue. We highly recommend stopping by for one of their special event nights – everything ranging from painting, to live music and poetry. Pop in and take a picture in front of the restored vault when you're done with your to-do list.

Mocha Lisa
2825 4 1/2 Mile Rd, Racine
Mocha Lisa Coffeehouse delivers high-quality coffees, espresso drinks, teas, baked goods and more, in a cozy and more intimate setting than larger chains. A 100-year-old Farmhouse has been renovated to resemble the quaintness of Door County Coffeehouses. Mocha Lisa is a play on the famous Mona Lisa painting and hints to the more artsy side of their business. Offering local arts and crafts from area artists and craftspeople, Mocha Lisa provide unique gifts to brighten your walls and shelves at home.
A Little R&R Café
619 Wisconsin Ave, Downtown Racine
This cozy coffee shop located steps from Main Street offers more than a quaint workspace. Locally roasted coffee, made-from-scratch bakery items for gluten-free dietary needs, and many vegetarian and heart-healthy choices are available at this local favorite while you visit.
The Coffee House at Chestnut and Pine
492 N Pine St, Burlington
The Coffee House at Chestnut & Pine opens early and stays up late. The cafe is a space for the community to gather in conversation. Enjoy our popular Open Mic Night every Thursday and live music on the weekends. A full menu of specialty sandwiches, flatbreads, small plates, and bakery items is available daily. 
Divino Gelato & Coffee
425 Main St, Downtown Racine
Divino Gelato is the perfect Main Street spot. Pop in for the freshest variety of gelato, coffee or a quick bite. The building once held the historic Bijou Theater – Immerse yourself in the mezzanine level for a great perspective and a quiet chat. Their French macarons and boba teas also a must-try. Stop by on an evening where they host live music and local acts for an even more memorable experience.

Wilson's Coffee & Tea
3306 Washington Ave., Racine
Wilson's Coffee & Tea is West Racine's number one spot for the best locally sourced coffee and tea while providing a comfortable and welcoming atmosphere for all. Looking for a way to make your visit more productive while still getting that uniquely Racine experience? Wilson's is conveniently located between two of Racine's most famous Kringle bakeries, Bendsten's and Larsen's! 

Abrazo Coffee
321 Main Street, Downtown Racine
Abrazo, which means "to embrace" is quickly living up to its name. This coffee shop embraces the perfect hub for all of your studying and working needs, as well as a variety of coffees, teas, and fresh blended juices and smoothies. 
---
Coworking Spaces & Libraries
 
Atmosphere Collaborative Space
829 Wisconsin Avenue, Racine
Atmosphere Collaborative Space provides a venue for connection, collaboration, and opportunity by encouraging close physical proximity of diverse professionals. This coworking space provides users three conference rooms, amenities for refreshments, an array of programming — accountability sessions, brainstorming lunches, wellness breaks, business speakers, and more. 
Racine Public Library
75 Seventh Street, Racine
Burlington Public Library
166 E. Jefferson St. Burlington
Waterford Public Library
101 N. River Street Waterford
Graham Public Library
1215 Main Street Union Grove
---
Casual Hangouts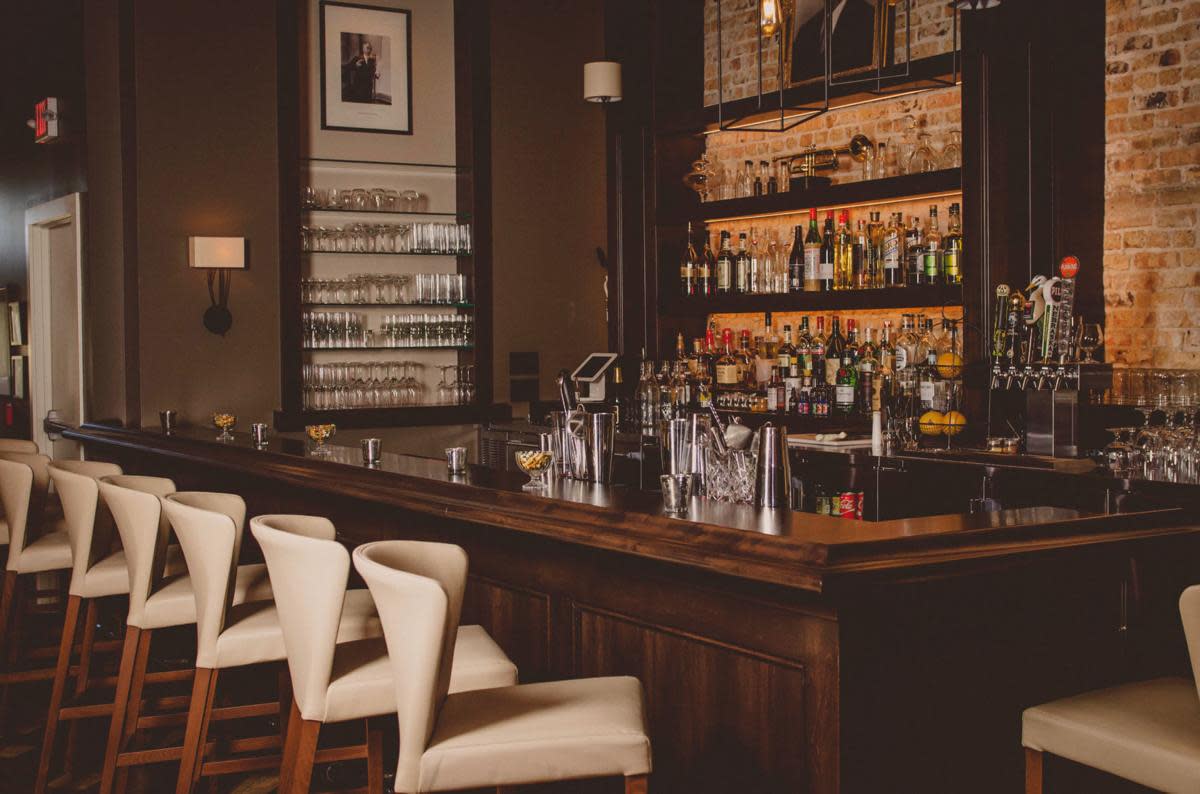 Liars Club Bar
492 N Pine St, Burlington​
Upstairs from the Coffee House at Chestnut and Pine is home to a Burlington tradition. The Liars' Club bar serves up Classic Cocktails, Craft Beer, and Unique Wines. The bar pays homage to the real Liars' Club organization that began in Burlington and has been awarding the title "World Champion Liar" annually since 1929.
Racine Brewing Company
303 Main Street, Downtown Racine
The Racine Brewing Company taproom is a family-friendly gathering place, and an unconventional yet fantastic way to get your workload finished while being a conveniently location for your next 5-o-clock club. A limited food menu (pizzas, snacks) is available along with Racine Brewing's craft beers and gourmet sodas.
Longshot Vinyl
324 Sixth Street, Downtown Racine
Selling new and vintage vinyl records, this local lounge also serves craft beer, wine, pour-over coffee, tea, craft soda, charcuterie boards, and more provisions to feed your body and mind. Longshot is the perfect hang-out spot to listen to great music, study, work and have fun with new friends.
Looking for more fun? Visit our Things to Do page for everything going on in Racine County!