Starting Tuesday, July 14th from 9:00 am-4:00 pm., you can pick up your farm favorites from Apple Holler's Outdoor Market. Here's what you need to know before you go:
---
Apple Holler products will be sold outdoors at the Orchard Market walk-up windows for the safety of staff and guests. Customers will be able to purchase Apple Cider Donuts, an assortment of Homemade Pies, Turnovers, Breads, Fresh Apples, Apple Cider, and more. In addition, the walk-up window will also have fresh Deli Sandwiches, Ice Cream Cones, Jams, Jellies, Salad Dressings, Salsas, Pretzel Dips, and much more. In conjunction with the Orchard Market, a sidewalk sale as well - clothing that is normally available in our indoor gift shop will be available for purchase. 
To ensure everyone's safety, Apple Holler asks everyone: 
If you are showing symptoms of COVID-19, please do not visit our farm. Return home and follow the CDC guidelines.
 
Keep Your Distance: Stay a minimum of 6 feet (preferably more) away from other customers and staff at all times
 
Wear a Face Mask: All employees and visitors must wear a face mask.
 
Please wash your hands thoroughly before visiting us. Apple Holler will have many outdoor handwashing stations available for your use.
 
Hand Sanitizer: Please use hand sanitizer whenever possible.
---
Bakery & Restaurant Curbside Pickup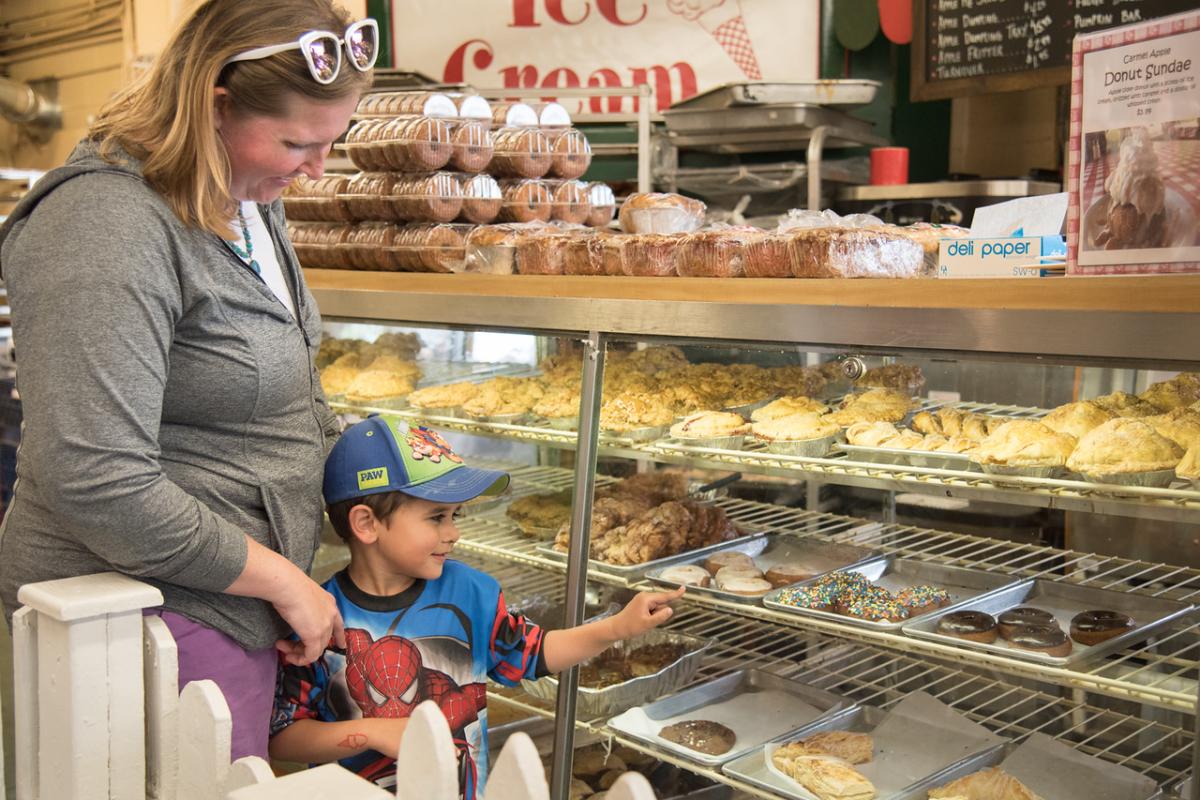 Restaurant Hot Food Curbside Pickup: Apple Holler Restaurant's top sellers and most popular menu items featuring Fish, Golden Fried Chicken, Wraps, Sandwiches, and much more! Available Fridays, Saturdays, and Sundays. Click here to view Restaurant Hot Food Curbside Pickup Menu.
Bakery & Specialty Foods Curbside Pickup: Cider Donuts, Pies, Ready-to-Bake Meals, Jams, Jellies & Preserves, Baking Mixes, and more available for online ordering and curbside pickup every day. Click here to view Bakery & Specialty Foods Online Curbside Pickup Menu.
Donut & Pie Drive-Thru and Outdoor Applewood Grill: The Donut & Pie Drive-Thru and Outdoor Applewood Grill will still be open every Friday, Saturday, and Sunday from 9:00 AM to 3:00 PM. The restaurant will be offering a limited assortment of Homemade Pies and Donuts, Caramel Apples, Turnovers, and more! Brats, Hamburgers, All-Beef Jumbo Hot Dogs, Apple Butter BBQ Pulled Pork Sandwiches and more. All hot off of their new Drive-Thru Outdoor Applewood Grill will also be ready for order. No Pre-Ordering Required.