In Downtown Racine, craft breweries are on the rise. The Racine Brewing Company, located at 303 Main St., is a community-centric craft brewery, providing year-round brews as well as seasonal craft beers and regularly rotating limited release beers. Racine Brewing's taproom also offers a rotating selection of homemade craft sodas. We asked owners Andy and Angie Molina to share crowd favorites and brewers' choices at their homegrown establishment:
---
Fan Favorites
Hola Racine - Mexican Style Ale w/ Agave
"Hola Racine is a tribute to co-owner and head brewer Andy Molina's Mexican heritage.  This light and refreshing beer has been a favorite since our doors opened in 2018! We use a very generous amount of agave nectar in the brewing process. Agave, a plant native to Mexico and used to distill mezcal (tequila), lends to a dry, crisp finish in our beer. Served with a wedge of lime, Hola Racine really pops! From the beginning, Racinians seemed to really have a connection with this beer; what better way to make an entrance and connect with our community than to do it through a beer translated to, 'Hello, Racine!' "
Hula Chaser – Coconut Porter
"Hula Chaser is a variant of our Forgotten Porter, a recipe created by co-owner Angie Molina. We always use organic coconut and freshly toast it ourselves before making it an addition at the end of the fermentation process. You will enjoy not just a delightful coconut flavor, but notes of chocolate, caramel, and coffee, as well, that come from our well-balanced blend of malts. Hula Chaser was not intended to be a year-round beer, but its popularity quickly changed that. It can be found on draft in our taproom all year!"
Uncle Louie – Horchata Cream Ale
"This magnificent, delicious beer only comes around once a year, during Cinco De Mayo. Andy brewed this beer in honor of his Uncle Louie, who helped us not only build the brewery but became a popular figure amongst our guests. A genuine man, honest, fun, and always ready with a story to tell, Uncle Louie is very dear to us. We start with an exceptionally light, clean malt bill, add vanilla, lactose, and cinnamon, and the end product is creamy, sweet, and full of flavor! We frequently get asked to make this a year-round beer, and it does not last long!"
---
The Owners' Top of the Hops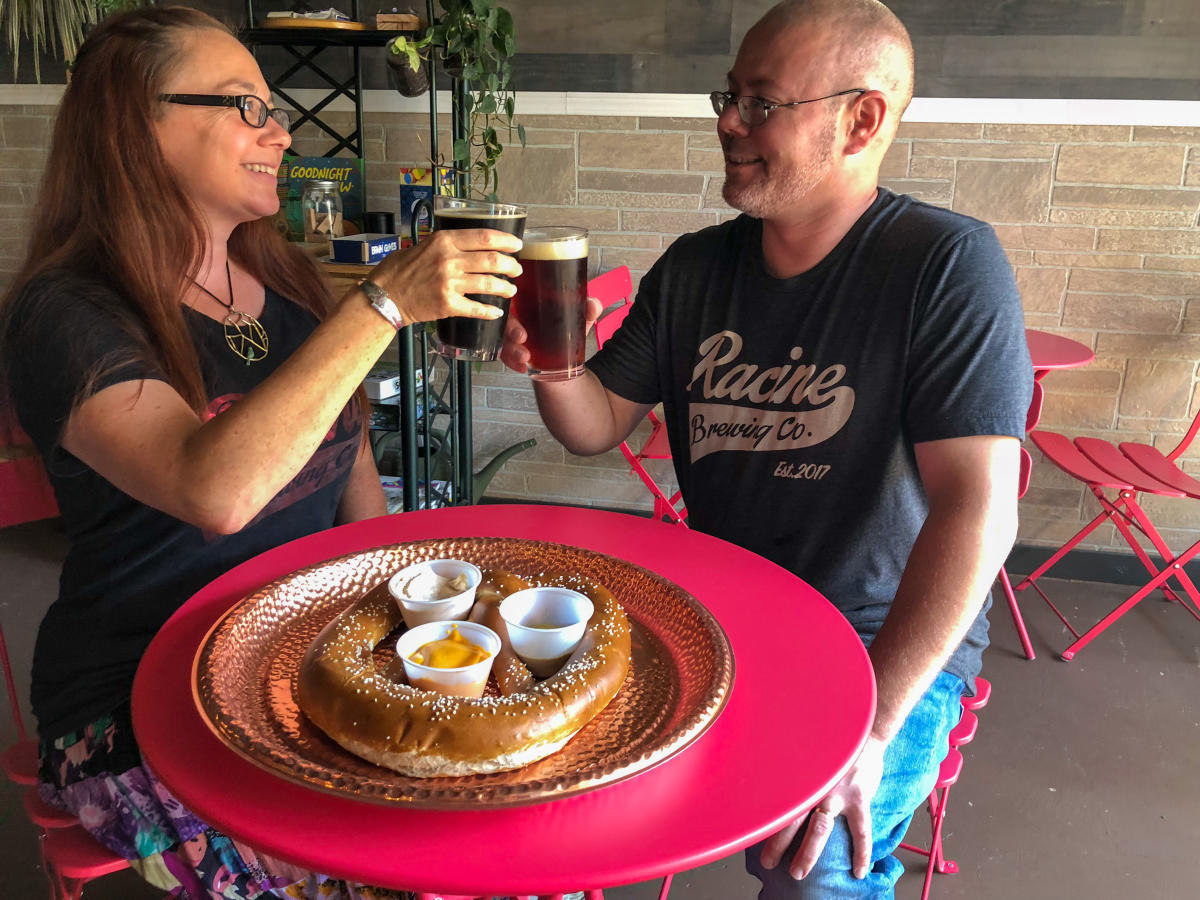 Lifetime Racine residents and beer barons Andy and Angie Molina 
Significant Other – Barrel-Aged Brut IPA (Andy's Favorite)
This beer was one of Andy's most complex brews, both in-process and flavor. We start with a lighter malt bill, Nelson Sauvin and Hallertau Blanc hop, and dry champagne yeast. It was then transferred into a red wine barrel, where its natural flavors could merge and mingle. According to Andy, "The hops, wine, and oak melded together in a "symphony of deliciousness"." He describes it as, to him, a perfect beer.
Maslow – Russian Imperial Stout (Angie's Favorite)
Maslow, a tribute to Angie's Polish family heritage, boasts a complex malt bill that finishes as a full-bodied, rich, and intensely flavored beer. It is aged in bourbon barrels, then makes its appearance once per year. Angie calls it, "a perfect beer to slowly sip at the end of the day".
---
Where to Find Racine Brewing Company



The Racine Brewing Company is located at 303 Main Street in Downtown Racine. Follow the brewery on Facebook, Instagram, and at www.racinebrewingcompany.com for events, special beer releases, and more year-round.
Racine Brewing Company Hours of Operation
Wednesday: 3:00-9:00 PM
Thursday: 3:00-9:00 PM
Friday: 3:00-11:00 PM
Saturday: Noon-11:00 PM
Sunday: Noon-7:00 PM

Looking for more fun? Visit our Things to Do page for everything going on in Racine County!