Let Racine County do the cooking for you. With take and bakes, drive-thru dinners, and socially distant dining, there's plenty of options to take the stress off of your plate and make room for pie. Here's our shortlist of local places preparing Thanksgiving meals this year.
---

Locally known for being a popular scratch kitchen that serves up delicious meals for all dietary needs, Blue Bear's Bakery location is serving Thanksgiving dinner family style. For $175, the Family Thanksgiving Dinner serves 8-10 people and includes a whole 12-14 lb antibiotic/hormone-free turkey. gravy, and sides of potatoes, stuffing, a vegetable, and rolls.
A la carte options as well as keto, vegan, and gluten-free options are available. Click here to learn more.
 
---
While most guests know Butcher & Barrel for their incredible upscale dining, the gastropub is serving a Thanksgiving Take and Bake Meal this holiday. This package includes Porchetta Style Turkey Breast, Potato and Herb Puree, Pan Seared Brussel Sprouts w/ Bacon and Balsamic Glaze, Pumpernickel Stuffing, Fresh Baked Dinner Rolls w/ Butter, and Pumpkin Tart w/ Candied Pecans for dessert.
The base price starts at $85 for 4-6 people, and additional sides (a la carte) are $5/each. All orders must be placed by Saturday, Nov. 21st at 8 pm. Orders will be ready for pick up Wednesday, Nov. 25th. 
To place an order by phone, call (262) 383-2300 after 5 pm Thursday-Saturday, or click here to place an order online.
---
Adults: $23.99
Seniors 60+: $20.99
Children under 12: $9.99
Children under 3: Free
This special holiday buffet includes both Breakfast/Brunch and Thanksgiving Dinner Fixings: Carving station with Prime Rib & Pork Tenderloin, Roast Turkey & Sage Dressing, Garlic Mashed Potatoes, Assorted Vegetables, Pasta Entree Variety, Corn Bread Soufflé, Salad Bar, Hickory Ham, Breakfast Entrée Selections, Eggs Benedict, Omelettes, and to top it off, Incredible Desserts.  

Includes Soda & Coffee. Reservations are required to ensure social distancing guidelines are enforced. Call (262) 898-8484 
---
A popular breakfast spot in the heart of Downtown Racine located on Monument Square, The Maple Table is offering take-and-bake Thanksgiving dinners for groups of 4-6 and 8-10 people. Choice of Oven Roasted Turkey or Country Carved Ham, Homestyle Mashed Potatoes & Gravy, Green Bean Almondine, Country Corn, Honey Tarragon Glazed Carrots, Farm Style Sage Stuffing, Orange Zested Cranberry Relish
Artisan Dinner Rolls with Butter and a Choice of Pecan or Pumpkin Pie.
A la carte sides are available. Items will be available for pick-up on Wednesday, November 25th from 2 pm - 6 pm and will be provided with detailed heating instructions. Final orders must be placed by Friday, November 20th. Click here to place your order.
---
Your favorite cuisine on the coast of Lake Michigan has extended its menu for Thanksgiving Day! Reefpoint Brewhouse is offering a turkey dinner to serve 10-12 people and includes a house-smoked or roasted turkey (12-14 lbs), half pans of mashed potatoes, mashed sweet potatoes, green bean casserole, macaroni and cheese, traditional stuffing, a side of cranberry relish, dinner rolls, and a pumpkin or apple pie for dessert. 
Smoked meats and add on sides are available on their menu as well. All orders must be placed by 2 pm on Tuesday, November 24th, and must be picked up on Thanksgiving Day 9 am - 11 am. Click here to place your order online, or call (262) 898 - 7333
---
Roberta, a cajun and southern style cooking spot, is here to help you with all of your Thanksgiving needs. Family Dinner packages as well as a la carte menu items for those of you who just want to add a few extra goodies to your own menu area available. 
Dinner (serves 2 for $45 or 6 for $126) includes 1 lb Herb Roasted Turkey Breast, Turkey Gravy, Cranberry Orange Jalapeño Relish,  Yukon Gold Mashed Potatoes with olive oil and chive, Roasted Brussel Sprouts with bacon, butternut squash and pecans, Cornbread Dressing with goat cheese and poblano, 4 Dinner Rolls and a choice of 1/2 pie (Buttermilk Sweet Potato, Bourbon Pecan, Cranberry Curd with Gingersnap Crumb Crust)
Orders must be received by Sunday, November 22 before 3:00 pm. Pick up times will be Wednesday, November 25 between 2:00 pm -6:00 pm. Please note, we will not be open on Thanksgiving Day, November 26. Roberta asks you to message your order and approximate pick-up time to their Facebook page or to place a phone order, call (262) 800 - 3019. 
---
Roma Lodge is known for serving great family-style Italian meals for weddings, special occasions, and during festival season in Racine County, but this year they're pivoting to please the crowds during social distancing times. Their Thanksgiving curbside meals (serves 3 for $45, 6 for $80, or 12 for $150) include sliced turkey breast, sweet corn, mashed potatoes, stuffing, whole green beans, dinner rolls, and a choice of apple or pumpkin pie dor dessert.
Pick up is November 26th from 10:00 am to 1:00 PM. All orders can be placed by calling (262) 886 - 3610
---
The Summit offers Thanksgiving Buffet,  Sitdown Dinner, and even a drive-thru menu for any way you want to celebrate:
Buffet 10:30-2:30
Adults: $27
Children 12 and Under: $18
Children 3 and Under: Free

Sitdown Dinner 3:00-6:00
Offers a wide menu from classic turkey and prime rib to more refined palates with roast duck and filet mignon. Entree prices range from $25 to $42. Appetizers and side dishes are also available to order.

To Go ($24) at the takeout window 11:00-4:00 
For reservations (both in-person and drive-thru), call (262) 886 - 9866
---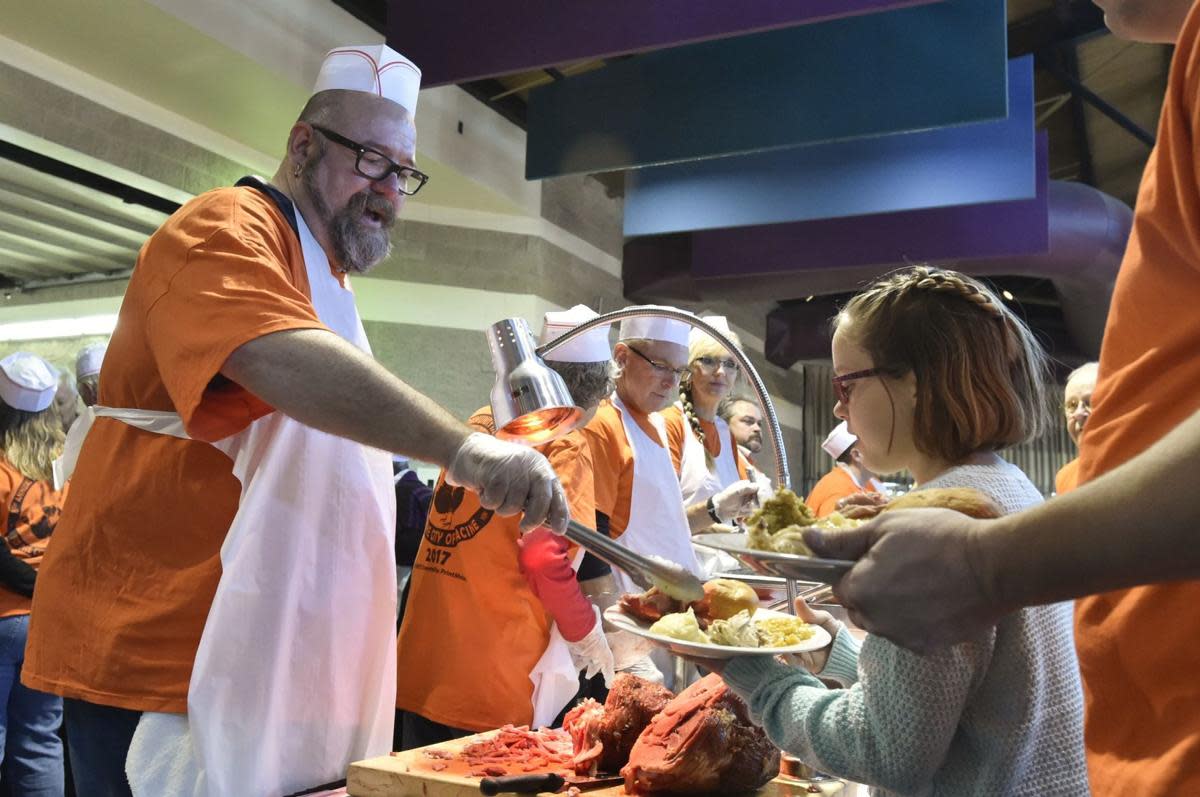 The community is invited to the Annual Dan and Ray "Rendering Thanks," a FREE Thanksgiving Day community meal of turkey, ham, potatoes, and all the trimmings.
The 11th annual free Thanksgiving Day feast is still expected to go on this year at Festival Hall, but will look a bit different. Dan & Ray Rendering Thanks is planned as a drive-through between 10 a.m. to 1 p.m. on Thursday, Nov. 26, at Festival Hall, 5 Fifth St.
The grab-and-go dinner will include turkey with gravy, corn, stuffing and mashed potatoes.
All money raised will go to the Route 20 Cares charity, and interested persons can go to the Dan & Ray Rendering Thanks Facebook page, call Route 20 at 262-898-7900 or donate in person at Route 20 (14001 Washington Ave., Yorkville) or Danny's Meats (1317 4 Mile Road, Racine).
A donation of $50 feeds 10 people.