Planning to dine out on Thanksgiving Day? Here are a few places in Racine County offering traditional Thanksgiving meals:
---
Adults: $29.95
Children (under 12): $14.95
Children (3 & under): Free
Celebrate Thanksgiving at Apple Holler as we serve a wonderful Thanksgiving Prime Rib Buffet with many savory dishes and desserts! Many say that it is the best Prime Rib around! Reservations are required so, call in early to reserve your spot at  262-884-7100.
Adults: $21.99
Seniors 60+: $16.99
Children under 12: $9.99
Children under 3: Free
This special holiday buffet includes both Breakfast/Brunch and Thanksgiving Dinner Fixings: Carving station with Prime Rib & Pork Tenderloin, Roast Turkey & Sage Dressing, Garlic Mashed Potatoes, Assorted Vegetables, Seafood Alfredo & Penne Marinara, Corn Bread Soufflé, Salad Bar, Hickory Ham, Breakfast Entrée Selections, Eggs Benedict, Make Your Own Omelette, and to top it off, Incredible Desserts.  

Includes Soda & Coffee Reservations are highly recommended, call 262-898-8484 Walk-in space is limited! 
The Summit offers Thanksgiving Buffet,  Sitdown Dinner, and even a drive-thru menu for any way you want to celebrate:
Buffet 10:30-2:30
Adults: $29
Children 12 and Under: $15
Children 3 and Under: Free

Sitdown Dinner 3:00-6:00
Offers a wide menu from classic turkey and prime rib to more refined palates with roast duck and filet mignon. Entree prices range from $25 to $42. Appetizers and side dishes are also available to order.

To Go ($20) at the takeout window 11:00-4:00
 
Call Now for reservations
262-886-9866
---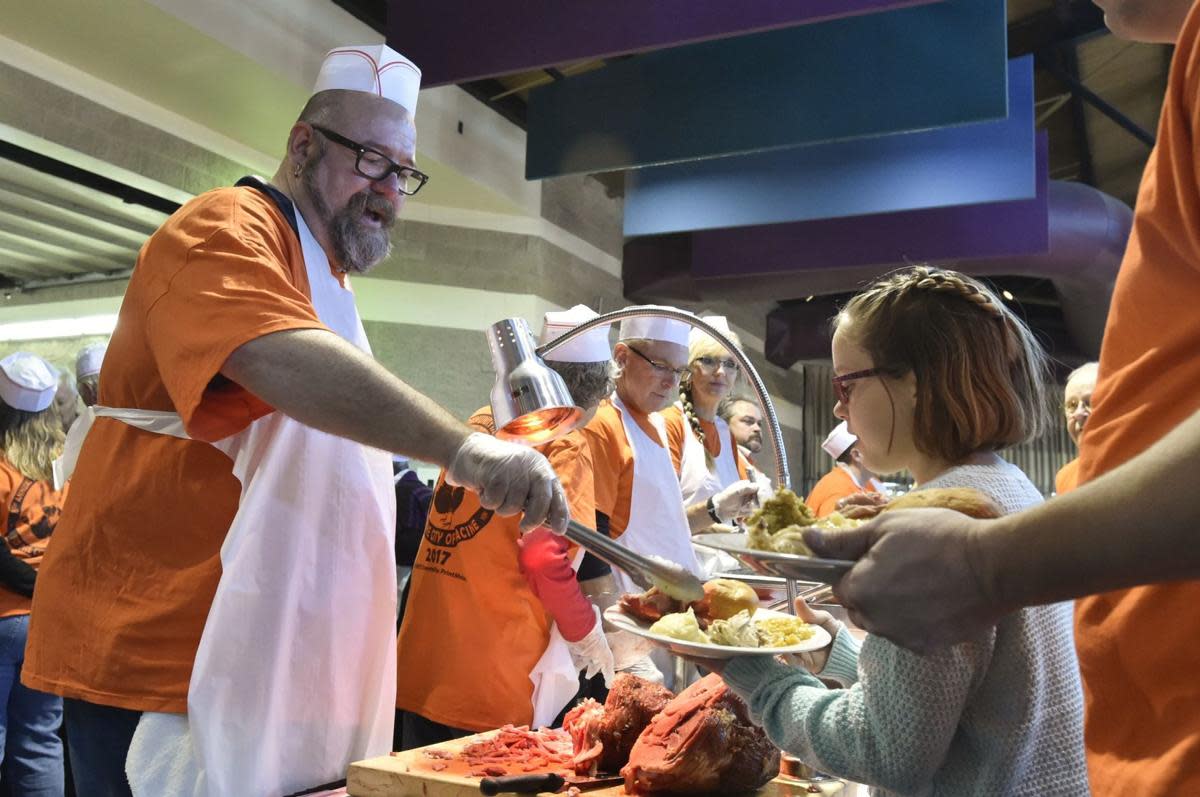 Looking to give back this Thanksgiving? The community is invited to the Annual Dan and Ray "Rendering Thanks," a FREE Thanksgiving Day community meal of turkey, ham, potatoes, and all the trimmings. The meal is open to anyone from 10 a.m. to 2 p.m. at Festival Hall, 5 Fifth St. The day includes live entertainment, football on the big screen, face painting and kids' activities. A non-perishable food items drive benefitting the Racine County Food Bank will be hosted.
If interested, table sponsorships are available at $50 (table of 10 people) - any other amounts are welcome. Send donations (payable to Route 20 Cares) to Danny's Meats, 1317 Four Mile Road, Racine, WI  53402